Fluke 1587/I400 FC 2-in-1 Insulation Multimeter with Clamp with Fluke Connect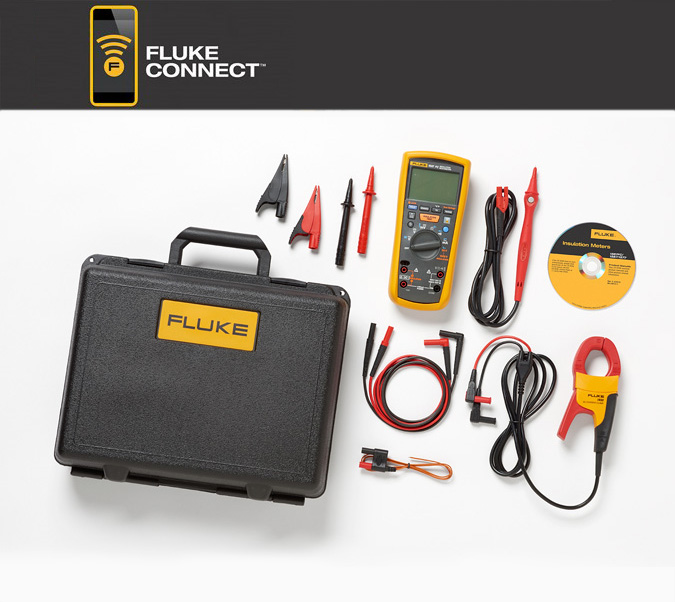 Fluke 1587/I400 FC Insulation Multimeter
See it. Save it. Share it.
All the facts, right in the field.
Fluke Connect ® with ShareLive™ video call is the only wireless measurement system that lets you stay in contact with your entire team without leaving the field*. The Fluke Connect mobile app is available for iPhone models 4S and up running iOS 8.0 or higher, iPad Air and iPad Mini (2nd generation) in an iPhone frame on iPad and iPod Touch (5th generation) HTC One and One M8 running Android 4.4.x or higher LG G3 and Nexus 5 running Android 4.4.x or higher Samsung Galaxy S4 running Android 4.3.x or higher Samsung Galaxy S5 running Android 4.4.x or higher and works with over 20 different Fluke products—the largest system of connected test tools in the world. And more are on the way. Go to the Fluke website to find out more.
*Within provider's wireless service area.
Download the app at:

The High-Performance 2-in-1 Insulation DMM
The Fluke 1587/I400 FC Insulation Multimeters combine a digital insulation tester with a full-featured, true-rms digital multimeter in a single compact, handheld unit, which provides maximum versatility for both troubleshooting and preventative maintenance.
The Fluke1587/I400 FC Insulation Multimeter adds four powerful newdiagnostic functions through the Fluke Connect ® Measurements app:
PI/DAR timed ratio tests with TrendIt ™ graphs identifies moisture and contaminated insulation problems faster.
Memory storage through Fluke Connect eliminates writing down results, reduces errors and saves data for historical tracking over time.
Temperature Compensation through app for establishing accu- rate baselines and relevant historical comparisons.
Historical tracking and trending of assets identifies degradation over time, allows real-time decisions to be made in the field with Fluke Connect ® Assets (sold separately).
Product Highlights
PI/DAR timed ratio tests (1587 FC only)
Live circuit detection prevents insulation test if voltage > 30 V is detected for added user protection
VFD low-pass filter for accurate motor drive measurements (1587 FC only)
Auto-discharge of capacitive voltage for added user protection
Insulation test (1587 FC: 0.01 MO to 2 GO) (1577: 0.1 MO to 600 MO)
Insulation test voltages (1587 FC: 50 V, 100 V, 250 V, 500 V, 1000 V),(1577: 500 V, 1000 V) for many applications
AC/DC voltage, DC millivolts, AC/DC milliamps, Resistance (O), Continuity
Capacitance, diode test, temperature, Min/Max, frequency (Hz) (1587 FC only)
Auto power off to save battery power
CAT III 1000 V, CAT IV 600 V measurement category
Large display with backlight
Rugged, utility hard case allows you to bring everything you need for the job
Included accessories: Remote probe, test leads and probes, alligator clips, (K-type thermocouple, 1587 FC only)
Accepts optional Fluke TPAK Magnetic Meter Hanger for convenient hands free operation
Three-year standard warranty; extendable to five-years through product registration within 45 days of purchase*