Amprobe DM-5 Power Quality Analyzer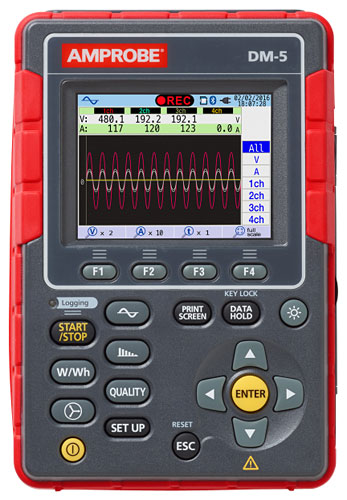 The Amprobe DM-5 Power Quality Analyzer allows you to easily and quickly discover the source and magnitude of power quality issues. At half the size of previous models, the compact DM-5 brings speed and efficiency to power quality jobs ranging from routine maintenance to in-plant troubleshooting of individual machinery and power distribution panels. Built for use in even the largest facilities, the DM-5 is safety tested to meet the world's most prestigious safety standards and is rated to CAT IV 300 V, CAT III 600 V, CAT II 1000 V.
Avoid excessive power usage and equipment failure or damage caused by poor power quality with preventative diagnosis of issues:
Test voltage, current, active/reactive/apparent power, PF & frequency parameters all on one screen
Monitor power quality events like swell, dip, interruption, transients, inrush current, & flicker
Check energy consumption with trend & demand graphs
Built for use in even the largest facilities, the DM-5 is safety tested to meet the world's most prestigious safety standards and is rated to CAT IV 300 V, CAT III 600 V, CAT II 1000 V.
Key Features
Real-Time Checks with Large, Full-Color Screen. During and after measurements, the on-board screen displays data graphs and values in full color for easy comparison. Additionally, the Print Screen quick-button makes it simple to save momentary readings for later comparison.
Quick Setup with On-Screen Guide. A stepby-step setup guide helps ensure you capture the right measurements. Simply select the parameters to test, follow the on-screen guide for wiring configuration, and be alerted to any incorrect settings before testing begins.
Wireless Control for Remote Checks and Adjustments. Adjust settings and transfer data remotely by connecting the DM-5 to compatible Bluetooth® enabled Windows® and Android® devices. This provides added convenience and safety, allowing for easy testing modifications even when the main unit is in difficult to access locations.
Full Analysis with Included Software Quickly analyze your recorded data to identify potential issues with report generation and data visualization.
Complete Power Quality Kit. The DM-5 comes complete with the accessories needed to quickly get to work, including light weight flex clamps with user selectable input ranges of 300 A, 1000 A, or 3000 A.
Applications
Harmonics
Harmonics often cause tripped circuit breakers, blown fuses, irregular electrical noises and overheating of electrical systems. Use the DM-5 to identify problematic harmonics, evaluate both the magnitude of harmonic frequencies present and the amount of total harmonic distortion.
Analyze Power Efficiency
With the DM-5, you can simultaneously measure up to 1,000 parameters to analyze wherever excessive power loss or other power problems may exist.
Pinpoint Transients
Transients can cause problems ranging from simple equipment malfunction to full equipment failure. Recording data over a prolonged period can help isolate when and where infrequent transients occur, helping identify root causes ranging from nearby lightning strikes to the switching of loads.
Capture Sags and Swells
The high performance processor of the DM-5 captures sags and swells, common causes of equipment failure and irregular electrical noises.
Monitor Voltage Unbalance
Monitoring for unbalance with the DM-5 can help identify issues before they result in costly equipment damage. Unbalance often causes excessive overheating, leading to motor failure and other problems within distribution systems.