Compliance Antenna Surge P 65 Megapulse Antenna Surge Tester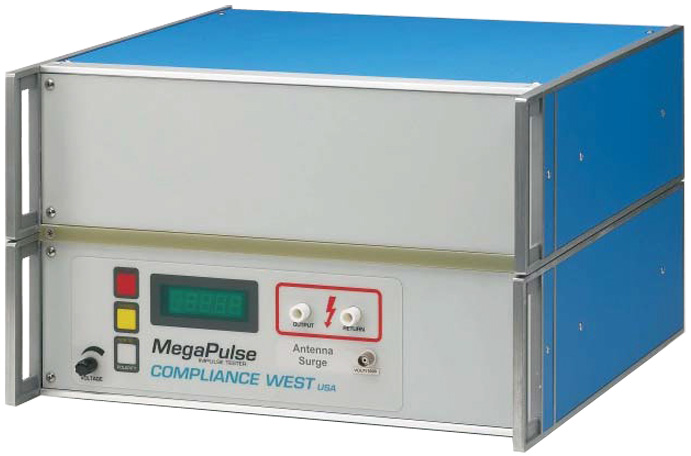 The Antenna Surge is designed to test for lightning strike to Antenna System Wiring as described in Para. 7.3.2. The waveform generated is in accordance with the instructions in Annex N, Table N.1, line 3. In accordance with these requirements, the Antenna Surge generates the waveform dictated by the noted circuit components at 10kV output voltage. Use with a general purpose oscilloscope for waveform capture. Configure with TestMinder for computer control and test report, and with Arc Detection for test failure detection.
Compliance West Antenna Surge P65 Tester for EN60950 & EN60065
The MegaPulse Antenna Surge provides 10kV output to perform tests noted in EN 60950, Para. 7.3.2. It also conducts the test in EN 60065, Para. 10.1. Built to output the exact pulse resulting from the circuit shown in EN 60950, Annex N, Figure N.2, using the circuit components from Table N.1, Line 3. The proprietary IEC 65 Switch is used. The output of this tester is specifically designed for testing in accordance with EN 60950, Annex N, Line 3. The 10kV Uc is shown on the front panel meter.
Options include TestMinder, which automatically applies the 50 pulses at a rate of 12 per minute, and a 4 megohm tap for special testing.