SKF Microlog Analyzer GX Series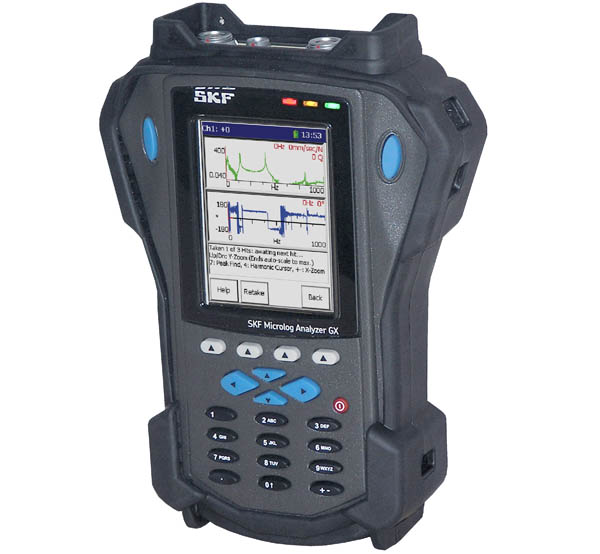 Supports Oracle and Microsoft SQL Server database managers
Interconnectivity with multiple enterprise-wide software programs and systems
Easy for novice or experienced users to learn and use
Scalable and flexible to meet your unique needs

 – Start with one of three base models and expand functionality according to your needs
– Easy personalization for individual users
– Application add-ons extend core functionality without migration to other base models
– User access control to support functional roles and department needs
– User programmable functions compute your company's KPIs (Key Performance Indicators)
Compliance reporting and scheduling help direct tasks and workforce
One software program to manage asset condition data from portable and on-line devices
SKF Microlog Analyzer GX Series
Modular approach offers seamless expansion
The modular design of the SKF Microlog GX series offers customers the option to upgrade and expand functionality without having to buy another instrument. Accessories are inter-changeable between models. The SKF Microlog GX is shipped with the full SKF Microlog suite of modules installed. To add additional functionality, units can be upgraded to more advanced models, simply purchase the module and enter the supplied license key.
For companies who are interested in an entry-level route-based data collector, the SKF Microlog GX-R model offers ease of use and implementation with multi-route, single channel data collection. This model features a measurement range of 80 kHz F max and up to 25 600 FFT lines of resolution.
The SKF Microlog GX-M includes multiple routes, and non-route data collection, four channel FFT analysis, three channel simultaneous triax and the Balancing module.
Additional features are added to create the SKF Microlog GX-F model, which includes all modules. The SKF Microlog GX-M can also be upgraded to any of the other modules including Run up Coast down module that is used to record and analyze data from machines where noise or vibration levels are changing with speed or time, and the Frequency Response Function (FRF) module, which uses a modal hammer to establish the properties of mechanical structures.
Portable data collector / FFT analyzer
The SKF Microlog GX series are high performance, one to four channel, route-based portable data collector / FFT analyzers that provide unmatched versatility and functionality in a rugged, industrial design. Developed for use in a wide range of industries, the SKF Microlog GX series is approved for use in hazardous environments requiring ATEX, IECEx and Class I Division 2 certifications.
State-of-the-art technology
With a robust, high-speed data processor, the SKF Microlog GX series captures full feature route and non-route dynamic (vibration) and static (process) measurements from many sources. Fixed mode autoranging automatically selects an input range based on the sensor type and sensitivity. Three channel simultaneous triaxial input with the separate tachometer input enables faster, more comprehensive data collection without adding to collection time. The SKF Microlog GX series also includes a triggering functionality that enables the unit to examine the trigger signal first, and then automatically set the trigger level. For even faster data collection, users can configure up to 12 measurements for automatic, one button data collection at a measurement location.
Asset data available fast, enterprise wide and in the formats you want
The route based SKF Microlog GX series transfers data to SKF @ptitude Analyst software, a comprehensive software solution with powerful diagnostic and analytical capabilities. SKF @ptitude Analyst provides fast, efficient and reliable storage, analysis, and retrieval of complex asset information and makes the information accessible throughout your entire organization.
With this powerful analysis tool, you are in complete control – from the way you set up hierarchies, filtered workspaces, routes, and analysis parameters, to the customized format for reporting. You can collect information based on location, machine type, frequency, or other selections. SKF @ptitude Analyst allows you to determine the appropriate limits for alarm conditions and how alarms are categorized.
You receive consistent, reliable data in the format that suits you best. SKF @ptitude Analyst can incorporate data from other sources, such as OPC servers, and seamlessly interface with your organization's Computerized Maintenance Management System (CMMS), Enterprise Resource Planning (ERP) or other information management systems.